Appointment of the Nuncio as Extraordinary Envoy of His Holiness Pope Francis for the Inauguration of the new President of Georgia.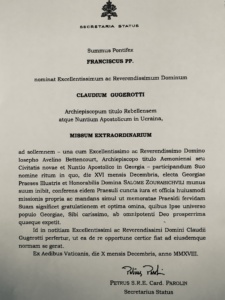 The Supreme Pontiff
POPE FRANCIS
names His Excellency Archbishop
CLAUDIO GUGEROTTI
Titular Archbishop of Ravello
and Apostolic Nuncio to Ukraine
EXTRAORDINARY ENVOY
to participate on 16th November 2018, in the name of the Pontiff – together with His Excellency Archbishop José Avelino Bettencourt, Tit. Archbishop of Emona or Cittanova and Apostolic Nuncio to Georgia – to the solemn ceremony of the beginning of the mandate of the President-elect of Georgia, the Illustrious and Honourable Mrs. Salomé Zourabichvili, granting to the Archbishop all the rights and duties of such mission and entrusting him with communicating to the above mentioned President His fervid congratulations and His best wishes, while invoking from God every possible prosperity upon all the very dear people of Georgia.
This is to notify His Excellency Archbishop Claudio Gugerotti for his personal and opportune information, so that he may act according to norms.
From the Vatican, 10th December 2018.
Cardinal Pietro Parolin
Secretary of State.
Please follow and like us: