His Excellency the Most Reverend Visvaldas KULBOKAS
Titular Archbishop of Martana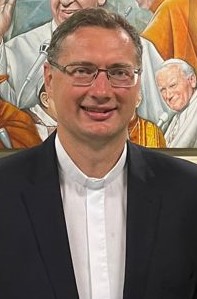 H. E. Msgr. Visvaldas Kulbokas was born in Klaipėda, Lithuania, on 14 May 1974.
He was ordained priest on 19 July 1998, and incardinated in the Diocese of Telšiai, Lithuania.
He studied at the Pontifical University of the Holy Cross in Rome, where he obtained the Doctor's degree in Theology (2002) and the Licentiate in Canon Law (2004).
He entered the Holy See's Diplomatic Service on 1 July 2004, and served in the following positions:
– 2004-2007: Attaché (subsequently, Second Secretary) of the Apostolic Nunciature in Lebanon;
– 2007-2009: Second Secretary of the Apostolic Nunciature in the Netherlands;
– 2009-2012: First Secretary of the Apostolic Nunciature in the Russian Federation;
– 2012-2020: served in the Section for Relations with States of the Secretariat of State, Vatican;
– 2020-2021: First Counsellor of the Apostolic Nunciature in Kenya.
On 15 June 2021 he was appointed Apostolic Nuncio to Ukraine.
Ordained Archbishop on 14 August 2021.
He speaks English, French, Italian, Russian and Spanish.